Over the past few weeks, I've been researching my ancestry. There are so many unanswered questions in my family, so I took it upon myself to try to track down as many answers as I could.
The first question relates to a rumored line of Cherokee blood in my mother's family. Where did that rumor come from?
The second question that I had was, am I really of Scot-Irish descent, as I'd always been told?

So far, I have revealed some very interesting facts, but no definite answers to these questions. It appears that my ancestors come from Wales, England and Ireland, and they were here in the United States long before the American Revolution. The alleged Scot-Irish background could have been a cover story to fit in with the rest of the families that inhabited the mountains of Western North Carolina, mostly Scots-Irish families that immigrated to get away from English tyranny in their own countries.
I've found no evidence of a Cherokee bloodline, but I've also run into parts of my mother's family where the public records don't exist. This isn't unexpected. These were very private mountain folk.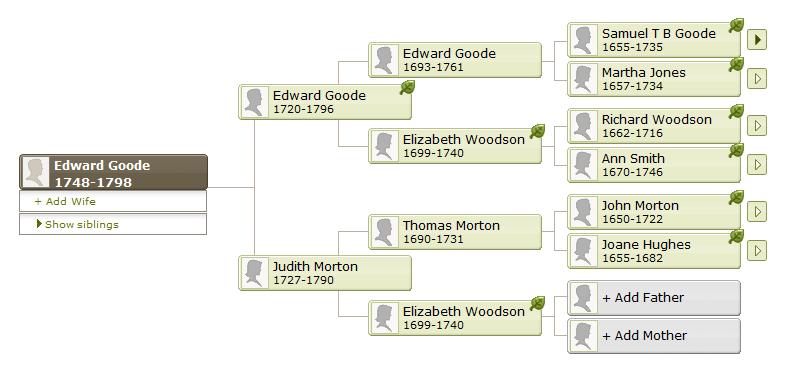 But, as I said, so far I've found some great facts about my ancestors. The most interesting facts I discovered were:
My great-great-maternal grandfather, Harvey Rush London (1837-?), was a Confederate soldier registered with a regiment out of Jackson County, North Carolina.
Many of my relatives came from the UK, including Wales; Ulster, Ireland; Essex, England; London, England; and Cornwall, England.
I am not only a direct descendant of John Goode, of Whitestone, Cornwall, England, but I come from the line of the his first son, Samuel the Barbadian.
There is an honest-to-goodness case of incest documented in the Goode bloodline. Edward Goode (1720-1796) married his half-sister, Judith Morton. (See image above)
There are some terrific names in my family. Some of the best have been:

Sadie Holden
Noah Goode
Eunicia Davis
Gabriel Jackson
Lord Cummins
Ursula Hildyard
Abraham Cairnes
Celia Elvina Tutt
Samuel "the Barbadian" Goode
Solomon Jones

Sadly, I was able to see the death certificate of my paternal great-grandmother and confirm the story told to me by my grandmother. Apparently, Ursula Corn was accidentally shot in the face by a family member while holding my grandmother's hand. That must've been so traumatic.
An interesting discovering was the following book about the Goode family. Apparently, the Goode family was so expansive in the state of Virginia that in the 1800′s, you could spend just a few minutes with anyone you met there and discover that you were a distant relative in some way.
I know this isn't really blog-worthy information, but I find it interesting, and it's my blog. Besides, we're probably related.